Yoko Kuroki (黒木洋子, Kuroki Yōko) is one of the prisoners in the Haguro Prison. Her inmate number is LB0008. Her "base" is that of an American serial killer, Arthur Shawcross.
Appearance
Personality
Background
Although her inmate number is "LB0008", Yoko was not the eighth inmate at the Haguro Prison since the eighth to arrive was Miina Isurugi.
Plot
Abilities
Trivia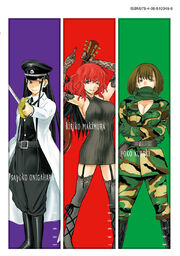 Among those in the Haguro Prison, Yoko is the last to have her murder model revealed. She was also the first one to experience the Medusa Syndrome.
The alternative romanization of her name is Youko Kuroki. However, in inside cover of Volume 3 the author has revealed that her name is written as Yoko Kuroki.
Community content is available under
CC-BY-SA
unless otherwise noted.